Solo's the Name (10)
George was going show the kids this, in 1977! - until the studio reined him in
Punc-tua'tion!
Sometimes it's hard to believe that I drew these ones. They're so weird looking! Again, I begin to doubt that I'd even seen the film? I mean, what was this all based on? Was it a combination of the comics and the novel? (I never had issue#1, and I think schoolchum, Francis O'C or someone might have given me issue#2, without the cover). But I must have seen the film first, I simply can't believe this all preceded viewing it - despite its weirdness. It's funny, the number of characters who go about barefoot; even the Incredible Hulk there. Hey! - when did that appear on TV? 1978. Don't think I'd seen the Hulk in comic form back then.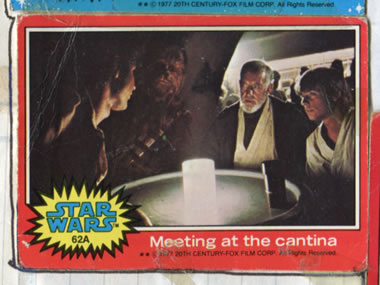 A nice, oft-published production still (Read about the cards here)
Whatcha think of Kenobi's opener to Solo? Is it a rhetorical question gone wrong, or simply my usual poor grasp of punctuation?
Ben: "ARE YOU A FREIGHTER PILOT!"

Solo: "Uh, is that a question or a statement?"

Ben: "I DON'T ****ING KNOW EITHER! THE LAD WHO'S DRAWING US CAN BARELY WRITE!"

Solo: "You got that right, old-timer. I mean, am I supposed to say: 'SOLO'S THE NAME THIS IS CHEWBACCA OPEN BRACKET CHEWIE CLOSE BRACKET' ?"

Ben: "YOU CAN SCRAWL THIS STUFF BUT YOU CAN'T SAY IT!"

Chewie: "HRUNK (Han, I already told this geriatric over at the bar, 5 minutes ago! - that you ARE a freighter pilot. Is he senile?"

Ben: "MY APOLOGIES MR.CHEWBACCA. INCIDENTALLY, THE ECONOMY OF THE WOOKIE LANGUAGE NEVER CEASES TO AMAZE ME. YOU SAID ALL OF THAT WITH A SINGLE SOUND!"

Luke: "I'm getting crossed-eyes-strain. I can't stop looking down at this chin he's drawn on me. Look, there it is. Enormous! I can scoop cows off train-tracks."

Ben: "What's a Cow?"
A wee reference back to Luke's "What's a Duck?" line. Nice to know that the old can also learn from the young.
The circle is complete, Reader!