070: "Solo's the name" We meet Han
on
May 31, 2016
at
2:13 pm
Old and wobbly. Sometimes it's hard to believe that I drew these ones. They're so weird looking!
Punc-tua'tion!
Again, I begin to doubt that I'd even seen the film when I drew this. I mean, what was this all based on? Was it a combination of the comics and the novel? I never had issue#1 of Star Wars Weekly, but I think my schoolchum, Francis O'C might have generously given me issue#2 – which for some reason was missing its cover. Acouple of years later, i drew one and stapled it on, and I still have it. But I must have seen the film first. I simply can't believe that this all preceded viewing it – despite its weirdness. It's funny to see the number of characters who go about barefoot; even the Incredible Hulk there. Hey! – when didthat appear on TV? 1978. I don't think I'd even seen the Hulk in comic form at that point.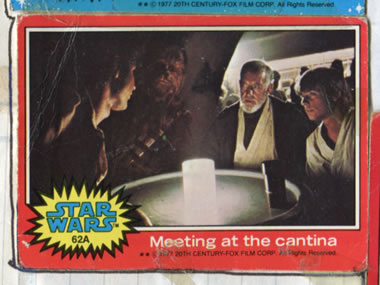 What do you think of Kenobi's opener to Solo? Is it a rhetorical question gone wrong, or simply my usual poor grasp of punctuation?
Ben: "ARE YOU A FREIGHTER PILOT!"

Solo: "Uh, is that a question or a statement?"

Ben: "I DON'T BLOODY KNOW! THE LAD WHO'S DRAWING US CAN BARELY WRITE!"

Solo: "You got that right, old-timer. I mean, am I supposed to say: 'SOLO'S THE NAME THIS IS CHEWBACCA OPEN BRACKET CHEWIE CLOSE BRACKET'?"

Ben: "I KNOW! YOU CAN WRITE THIS STUFF BUT YOU CAN'T SAY IT."

Chewie: "HRUNK (Han, I already told this geriatric over at the bar, 5 minutes ago! – that you ARE a freighter pilot. Is he senile?"

Ben: "MY APOLOGIES MR.CHEWBACCA. INCIDENTALLY, THE ECONOMY OF THE WOOKIE LANGUAGE NEVER CEASES TO AMAZE ME. YOU SAIDALL OF THAT WITH A SINGLE SOUND!"

Luke: "Hey, I'm getting eye-strain! I can't stop looking down at this chin he's drawn on me. I'm going cross-eyed! Look, there it is. Enormous! I could scoop cows off train-tracks!"

Ben: "Er… what's a Cow?"
A wee reference back to Luke's "« What's a Duck?" line. Nice to know that the old can also learn from the young.
The circle is complete, Reader!
Star Wars JogCast interview!
Alan R. Ryan interviewed me this morning (27 Nov 2015) for the Star Wars JogCast radio show. And it was a blast!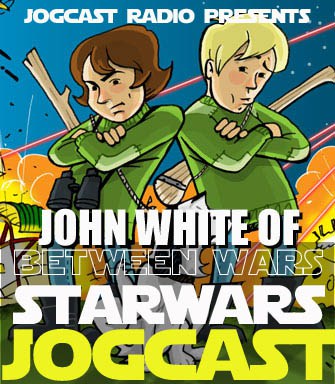 A couple of hours later it went live. He sure works fast! You can listen to the show it here. He even put a promo video up! OK, my head is swelling now. Alan/Adam, novelist Dean Mayes and Co. have been fantastic promoters of my comics. And I am so grateful.
JogCast Website: jogcastradionetwork.wordpress.com
Jogcast on Twitter: @jogcastradio
Alan R. Ryan, writer on: facebook.com/arryanwriter/
Alan R. Ryan on Twitter: @ARRyan_Writer
More Star Wars Podcasts!
As I wrote recently, I'm loving Podcasts these days. As well asJogCast, I'm really enjoying
All highly recommended! And I'm sure I'll listen to many others in the future.