030: In the Sandcrawler!
on
May 30, 2016
at
11:51 am
"WZ•ys†" (or words to that effect)
As they used to say in Marvel comics – there will be a great big no-prize to whoever can guess what that means. We're getting inside the sandcrawler, with it's slightly Giger-esque chute.
Art Notes
"…for all the world like a nest of mice returning to their holes."

1977 Novelisation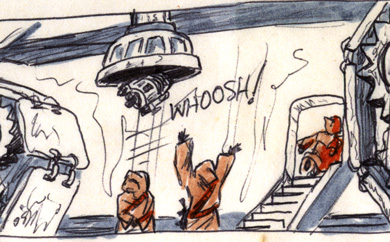 It's c.1982 once again – so the artwork's improved. Drawn on very light Airmail type paper, it's a shame the colouring isn't up to speed with the inking though. Or rather: the BIC Biro-ing. And the felt-tip pens were so inadequately thin and liney that I would have been better off with colouring pencils.
However, if you recall, your typical set of colouring pencils were usually hard and plasticky. I had no inkling of those creamypolychromos (never mindstudio markers). And even if we'd all known about Pantonestudio markers – and their like – we'd have died of the fumes – or their price-tag! I try to encourage my son to use nice big colouring pencils instead of markers these days. They give faster and easier coverage, encourage a looser handling, allow light and dark tones and vibrant cross-hatched colour combinations.
Script
Yep, you can tell from the slightly more poetic writing that I was reading the novel in one hand and writing with the other:
"There was a brief moan, the whoosh of powerful vacuum, and the small robot was sucked into the bowels of the sandcrawler as neatly as a pea up a straw. (…) they scurried into the crawler via tubes and ladders for all the world like a nest of mice returning to their holes."
…or to their nest – even. The "Slowly – almost painfully moved forward" bit came from elsewhere. I doubt that I could have written it.
The Film
It's a bit of a surprise to see what the sandcrawler really looked like! But then again, even in truncated form it's nice to know that it once existed as something more than a load of CGI pixels. And but – But! – while I searched for this gem of a shot I actually found something even better…
'Star Wars Remake'
This is a great site altogether. Take a look!
I think I've found kindred-spirits:
"In June of 1977, Jim, John and Gary saw Star Wars at White City Cinema in Worcester, Massachusetts. They were impressed. In the months after seeing the movie, so many costumes
and models were made that they decided to remake a few scenes on super 8 film. The project grew into a fifty minute film."
If you like my SWa9 site, then you'll no doubt appreciate theirs too, with its wonderful production stills. But the film itself is charming and… surprisingly accomplished!
Next: A bonus not-in-the-film-scene. Prepare to be baffled!