35: "Something solid hit us!"
on
March 16, 2018
at
1:16 pm
Age 14/15/16? | 1982/83? Asteroids!
Art Notes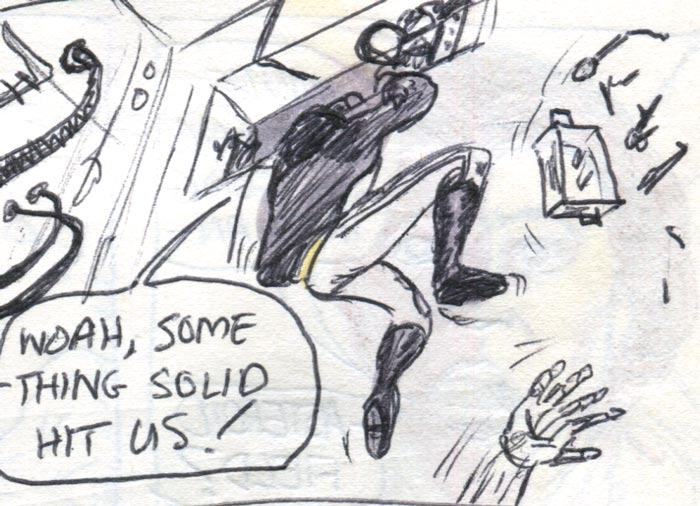 So, what does Han have in his toolbox, apart from (*chortle*) Hydro-spanners? Let's see…
A Spoon?—for eating his cornflakes while he's sat staring at masses of wires and gizmos, trying to figure out the problem. (Hint: you need to either go to a qualified space-mechanic, or get a new ship) The spoon has a useless bit of string attached to it.
Scissors?—for trimming his side-burns and nose hairs, while pondering the aforementioned.
Space Dividers?—unlike maritime dividers, these are used for working out the shortest ways from one place to another in inter-galactic space.
Other bits of Junk Drawer Junk?—miscellaneous junk doesn't only gather in drawers on earth. It's a problem in the Star Wars universe too.
Thank you for reading. I think that was an interesting discussion about Han Solo's toolbox.
Script Notes
Nice to see that I'm spelling cockpit properly.
There's something a bit off and a bit funny about the way Leia shouts, "It's asteroids!" Should it be: They're asteroids'? Or: 'There are asteroids'? Or, as we'd say in Ireland, 'There's asteroids out there.'?
Who knows. I could imagine someone yelling "Aghh—it's Hemmorhoids!" But it'd be very lavatorial and in poor taste for me to type that here.
Luke Is Coming to Dublin!
(I've since corrected my error about Mark Hamill being Grand Marshall of the parade)
It's Saint Patrick's Day on Saturday/tomorrow (no not Saint Patty's Day—arggh…). Guess who's going to be the first ever international guest of honour in the President's box at the Dublin parade? Good ol' Mark Hamill, that's who!
I might go in especially to see him.
Do you think he'll recognise me?
Please support this comic by posting your comments below and giving it a share—if you've enjoyed it. Thanks.