The End (21)
Last Updated (Monday, 01 April 2013 20:32) Written by Administrator Friday, 09 December 2011 00:00
Parting is such sweet sorrow
Noooooooooooooooooooooooooooooooooooooooo!
Ahh, look at the trio. Standing there, proud as punch, 'spit and polished', bright as a new pin.
*Zinggggg!*
Radiating lines and all. Gabby saw this the other night and laughed:
"Is she offering them pizza?"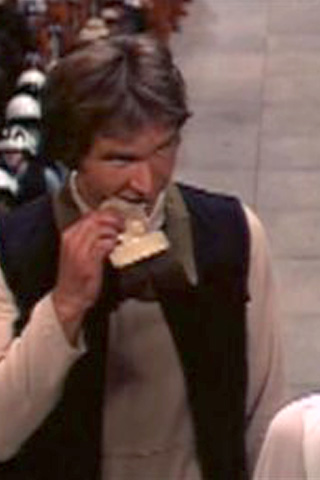 Luke's leaning against Chewie and appears either to be affectionately rubbing his shoulder up and down against the big furball, or scratching an itch like a bear against a tree (ironically). Or, is he just being coy and self-conscious?
There's a nice lack of text in panel 2. Up to this panel, it's been lifted from the novelisation. Luke stands so proudly to receive his award. Chin up - with a big dimply Kirk Douglas smile.
Han smiles - but looks embarrassed; and Leia (beautiful as ever) understands him perfectly. Maybe she's afraid he'll bite that gold medal - but she knows that he's a changed man now.
The Last Hurrah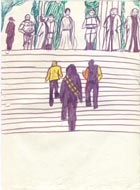 Super give-away deluxe bonus pin-up!
The final roar goes, not to the assembled rebels, or Han but to big loveable Chewie. Only the 10 or 11 year old in me would choose to do this. Did I ever see Lassie bark excitedly, before the end-credits in all those afternoon movies? Her human companions looking on. All smiles.
This almost laughably simplistic scene in Star Wars still affects me emotionally. A mixture of excitement, nostalgia, resolution and - loss. When they turn to face the audience - the rebel troops and us - we know we've reached that bitterwseet moment - again.
Postscript
This 2 year project to bring the Galaxy's greatest comic to the internet masses has been the most enjoyable creative project of my 43 years. How sad is that?
I didn't expect it to cause a global sensation (despite all of my mock-sense-of-cultural-signifcance commentary!) So when it got only around 30 vists a day, when I wasn't pushing it hard, I wasn't especially gutted. Although I'll admit, there were times when I considered throwing in the towel. There have been 20,396 vists since January 2010 and 104,187 page views. (I wonder how many were mine?)
Most of you were from the USA, then Canada.
I have more projects coming very soon. ALIEN age 11/Sight Unseen will be with you this December - possibly launching on Christmas Day. How festive and sweet. And I also SERIOUSLY need to turn this Moleskine notebook of sketches into a brand new, original (and disturbing) webcomic. That'll happen in January I hope!
Thanks
Thanks again to everyone who read, supported, promoted and spread the word about SWa9. You know who you are! You don't? « See here
I'll leave you with this stunning bonus poster for you to print, stick on your wall (with that amazing new BluTack stuff), and amaze your friends!
This is Mork - signing off. Nanu nanu.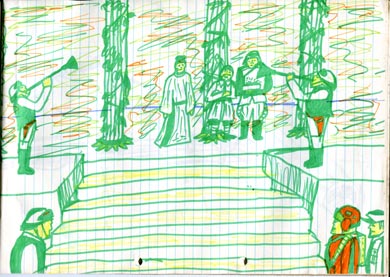 Super give-away deluxe bonus poster! See the tray of glinting medals?
Thanks for reading! Please leave a comment below ;-)