We Made It! (24)
Last Updated (Sunday, 31 March 2013 19:49) Written by Administrator Saturday, 03 September 2011 00:00
Art Notes: More nods to Chaykin
FRIPP
ZOW
ZZZ
ZROW
ZAK
Ok, I admit it. This might come as a shock but I might... (are you sitting down?) ...just might have copied some of Chaykin's work from the Marvel comic.
It just « feels unlikely that he slipped into my 1983 bedroom at night via a wormhole, to microfilm my precocious epic.
Still unconvinced of his innocence? Look, if Howie was capable of time-travel in 1977 he wouldn't have had to:
Ink Issue#1 by himself due to severe deadlines.
Or made the film look so odd! He'd have jumped forward to get proper production stills from after the film was made
He would have asked for considerably more money
Or, he would have said "keep your money and the job - I'm going to bet my life savings on the Kentucky Derby - or buy shares in 20th Century Fox."
And burn the negatives of Battle Beyond the Stars. But I digress... He simply couldn't do all of those things, because he couldn't time-travel.
ERGO: He probably didn't steal from my work.
So what does this mean? I think you've already guessed, readers. Simply put: by the most incredible coincidence, wee John, in a wee village in wee Ireland was coming up with some very very similar images in his own wee comic. It's funny because it feels so implausible.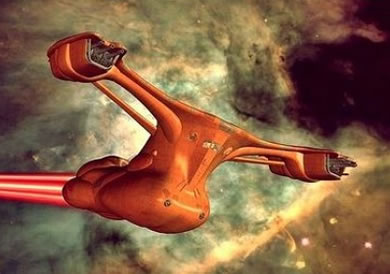 A bird? A plane? A spaceship? It's a flying female reproductive system!
Thanks for reading! Care to comment?