064: Mos Eisley Checkpoint
on
May 31, 2016
at
12:53 pm
Bad Cop, er… bad cop
One of the Star Wars jigsaw puzzles gives me some inspiration, and Christopher Lee gets his BAFTA Fellowship.
Art Notes
Well… there's not a huge amount to say about this one really. I really like it of course, because it's so immature. I reckon it's from later 1978. It's an attempt at a big dramatic 1 panel page and was a good one to start 'Chapter 3' of the comic. That is, chapter 3 of whatever configuration the actual comic was in at that time. But then, as we know readers: pages were revised, removed and often replaced 🙁
This was one of those wonderfully composed shots from Star Wars and when I saw it in the Newsagent shop as a kid – as a Jigsaw puzzle, for 50p – I eagerly divvied up my pennies. Did any of you have this one?
Christopher Lee: Bafta Fellowship Award
What a tearjerker – lump in the throat few moments that was. Christopher Lee received his BAFTA fellowship just now. I was afraid to speak in case I got croakey. (originally written in Feb 2011)
It seemed only natural that he should be chosen by George Lucas to play Count Dooku – in the Star Wars Prequels, when his great friend, the late Peter Cushing had also appeared in a major role in Star Wars as Grand Moff Tarkin. George likes to keep reminding us, creating and maintaning those little connections, going back 30 odd years to this original, stupendously great film.
So, Lee came onstage looking more frail than I had anticipated and it was hard to fight back the lump in the throat. It's wonderful that he's had such a resurgance in recent years with major movies, and he's performed so well in them all: Lord of the rings, Star Wars, Charlie and the Chocolate factory…
What will we tell wee Johnny when he's gone? At a tender 5 years of age, he loves the Prequels and The Clone wars. Those are really Johnny's Star Wars films.
Update, 13 Nov 2015
Christopher Lee passed away since I wrote the preceding text, on 7th June 2015. I actually recorded the Wicker Man the other night, funnily enough. So after refurbishing and re-publishing this page, I'll be sure to give it another viewing, this weekend hopefully.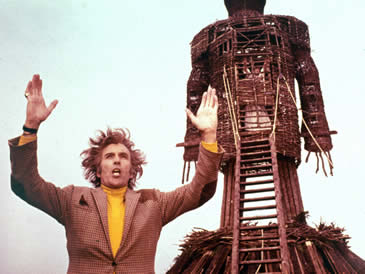 I only discovered on the day that he died, that he loved Heavy Metal! Imagine that? What an interesting life he led.
Though perhaps, as it has since emerged, not quite as interesting as he always claimed!