Chapter 2 of the Star Wars Comic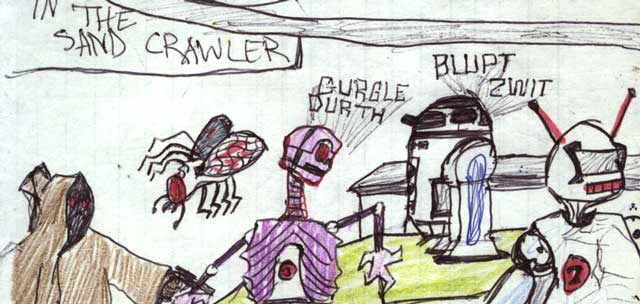 Threepio and Artoo crash-land in this Star Wars comic adaptation of 1977 onwards… and so begins some of the best character interplay of the film.
In this adaptation it seems that even robots can cry ». And this – drawn by the same diseased mind that brought you the « horrors of part 1? You see? Viewing 'horror' simply doesn't create psychos. This 9 year old turned out fine – honest.
Some fairly decent quality artwork » sticks its nose in and proves that GOOD isn't necessarily BETTER. At least, not for our purpose – which is to have a good laugh. God, I wonder how much of the old, crappy but endearing » artwork was sacrificed for this slicker, dull stuff?
We also get an alternate take of R2 and Threepio's capture by the Jawas » of Tatooine!
Not much else to say really, just dive in and see what you think yourself! All will be revealed, in the version you've been bloody-well gagging for since 1977. Popcorn ready? Let's go
Thanks for reading! Please keep the comments coming. John White