Makeup! (17)
Last Updated (Friday, 28 December 2012 19:17) Written by Administrator Wednesday, 24 November 2010 00:00
OOEEUG! Fire the Makeup Department!
Artwork Notes
Bloody hell! Like looks a bit tarty in this one doesn't he? Burgundy lipstick on the top lip, with artfully used orange on the lower one. You know what though? During the rescue scene, I think Mark Hamill also looks a bit weird. Skinnier and with thick looking make-up. Perhaps he just still had a rich tan from being in Tunisia? Certainly looked at odds with the earlier scenes.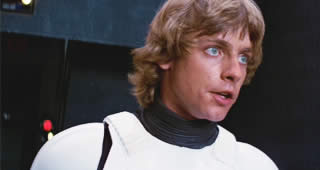 Above: Caked in orange makeup!
Text Notes
"Luke twists his nose up when he kicks over a dead Jawa"
Oh come on, he kicks over a dead Jawa? Now that's a bit insensitive if you ask me. But then, in the novel Lucas/Dean Foster has written:
"Luke had walked over to one of the small crumpled bodies and kicked it onto its back. His face screwed up in distaste as he saw what remained of the pitiful creature."
Interestingly, in it Ben remarks:
"..Sandpeople aren't this accurate. In fact, no one on Tatooine fires and destroys with this kind of efficiency."
Pull the other one. When I finally talked my mum and dad into seeing the film with me for my third viewing (over 3 years later) when it was re-released along with Empire Strikes Back as a double-bill in 1980 - was it? - one of my mum and dad's remarks afterwards was "Those baddie soldiers weren't very good shots were they?" Of course, I shrugged awkwardly and mumbled something - probably partly embarrassed and partly wondering why they had to over-analyse things! Still, it was a big thrill to bring them to it after raving about it to them for years.
More Artwork Notes (lucky you)
And Looking at the top drawings I reckon this was a very early one - 1978 perhaps - but I went back over it much later. That bottom - tarty - pencil-only panel probably wasn't even there for a year or two. Then even later than that I returned to it again and added Ben's closing line. Actually, the very first line seems to have been added later too. Talk about economy. The earliest version of this page then, started with Luke making those "OOEEUG" and "AAGH!" noises. I like that - more visually focused.