Front Cover of the Comic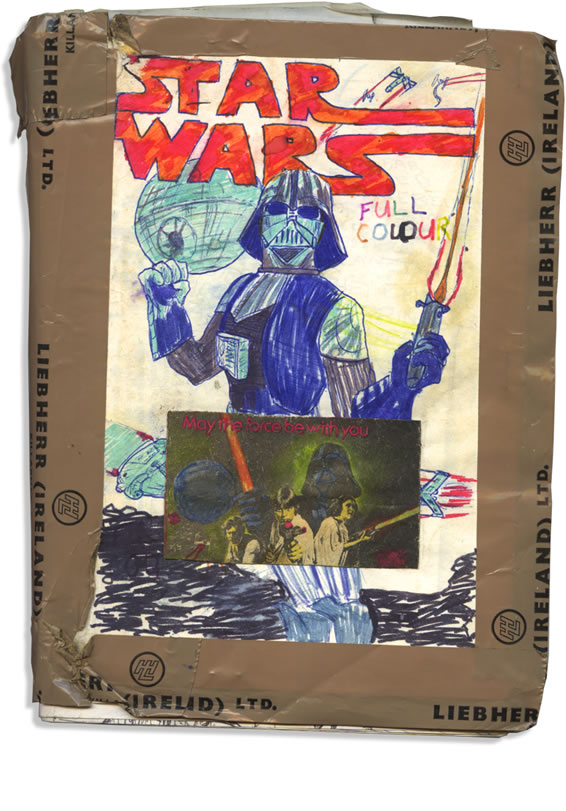 How it all began
Or rather, this was the cover at some stage in the comic's evolution. Unfortunately I no longer have the original cover and I can't recall what on earth it looked like - possibly rendered in green marker? You never know... it might turn up.
Art & Design
One of the problems was that the covers would wear out pretty quickly, being of mere paper like the rest of the pages. The cover would also be instantly critically assessed every time I picked up the comic to work on it. So it would be easily removed and another few joyful hours could be spent designing a new one. I found a later - less funny - version recently > here it is <
Presentation
The ol' presentation's leaving quite a bit to be desired! Do you see the B&W clipping? That was cut out of the cinema page of the Leinster Leader newspaper. As you can see, it's been crudely reinforced with brown packing tape. Classy. That lovely brown tape was brought home from work by dad, and for years you'd hear:
"Anyone seen the roll of Liebherr tape?"
But forget all that. Popcorn at the ready, sit back and enjoy Star Wars - as George Lucas might have wished it to have been, but never had the nerve to make it.
While I'm on the subject, do you think that's why he keeps messing about with the film? - adding bits, polishing it, sticking in CGI? If only you could have got it bang-on first time George, like I did. George, George, George... whatever will we do with you?
Right, finally, off we go!

Thanks for reading! Care to comment?