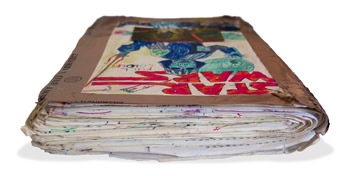 A new definition for 'Dog-eared'. It's been well-loved.
In July 2009 I started to put it all online - bit by bit. All of the Star Wars comic I drew (drawed?) between 1977 and c.1983(?)Making it... a 21st CenturyWebComic. Now it's getting on 37 years old. Resurrected! It got some fans and some nice reviews online. It was even given a full page in Spain's leading cinema magazine!
15th July 2014 | Recently, the site was hacked, but it needed to be rebuilt anyway. After a mammoth task of Copying-and-Pasting and saving all of the content and the reader's comments, I'm now starting form page 1 and recreating the site. What a pleasant trip this is, back to my 'happy place'.
The Spark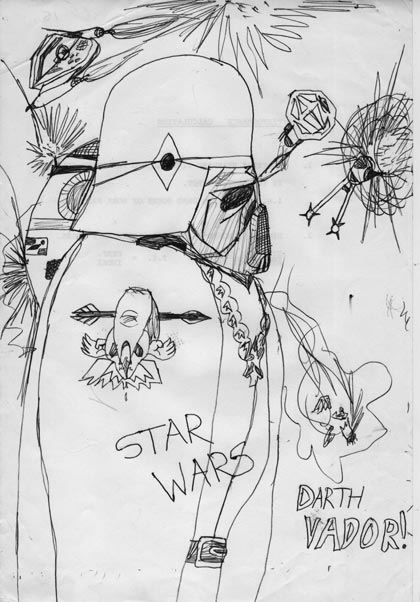 What's that insignia on Darth Vador's arm? Is he a biker?
My parents seem to have saved much of it enroute to the bin! This was a joyful discovery in mid-2009 when my dad handed me a bag of old drawings that he'd kept up in his wardrobe. Since then, their attic has revealed more: crumpled, partially eaten by silverfish and worse - covered in bird droppings.
Other Finds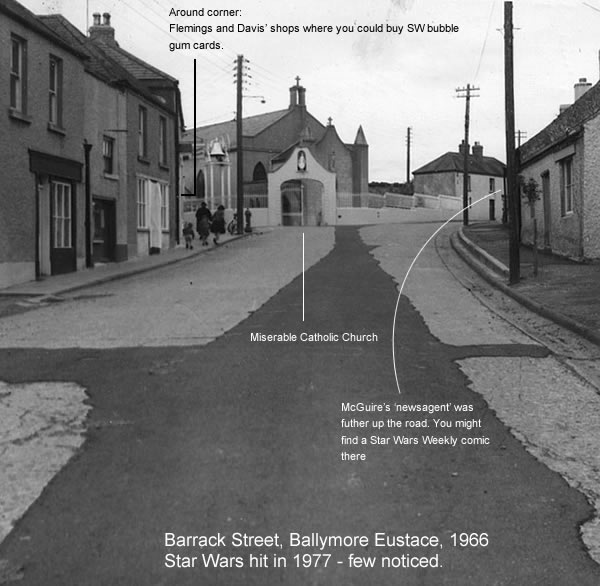 The Irish Village where nothing happened where it all happened
Hundreds more drawings unearthed in archaeological digs in mum and dad's attic. Mostly of Star Wars including the very first ones that I dashed onto paper, on the sitting room floor, the minute I got home from the cinema having seen it for the first time.
It's funny to see the details I vividly remembered and others that I had to invent. It was all a bit visually overwhelming for a 9 year old I suppose!