065: "You may pass"
on
May 31, 2016
at
12:55 pm
The Original and Best
I internet-troll myself, for making all of thosechanges to the original version of Star Wars – the Irish comic adaptation; and I wonder about 'Sandtroopers' and… 'Droide'?
Sandtroopers?
When was that moniker invented? I was never aware of it until I went to a convention last year (in 2011?). They were all just stormtroopers to me. But, I suppose it sells toys! And let's be honest: they look very cool and battered and worn. And they have huge rifles. Just not sure about the frilly pink umbrellas though. Were they standard issue?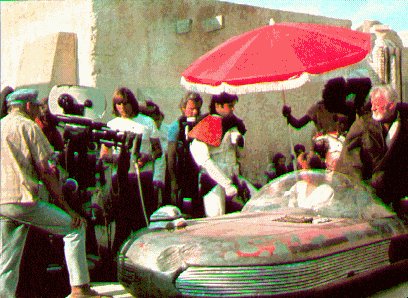 It's great reading about how the costumes and props were thrown together for the film. The gear on these Sandtroopersconsists of a motorcycle chest protector for the shoulder rank-signifier, but also bits of plumbing pipe for their backpacks. I love that.
These Droide are no use to you!

– I like that. Droide, as plural of Droid. It also sounds a bit like a species.
Art Notes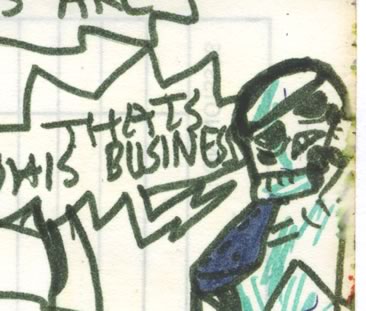 It's the welcome return of the oldest crappiest stuff. Well… Ilove it. Brings me right back! Look at the trooper, above. Everyone wants a look-in!
We're ready for our close-ups, Mr. White!
And check out the lovable Jawa, with the huge head, drifting along like a ghost. And another even more weirdly proportioned character to the right of him; with an insect head – or a pilot's helmet? Which do you think it is?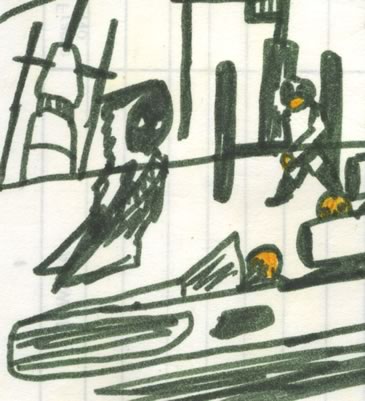 But best of all, and I didn't see this until I looked close, is C-3PO peeping up over the Land Speeder engine – perhaps nervously, at the Imperial Troopers – as they slip away from the checkpoint.
Revisions, revisions…
A later attempt was made to improve the big stormtrooper drawing at the bottom, with blue biro. See that?
Sometimes I enjoy seeing these layers of art-working, but you know, sometimes I also wish that George Lucas had been able to go on the Internet – all filled-up with and consumed with indignant rage – to vent his fury at this little lad in Ballymore village, County Kildare, Ireland – because of all "the changes that were being made to the original". Maybe I would have taken heed, and controlled myself, and lots of the oldest pages would still exist!
Or maybe I would have just given up in despair, and sold it all to Disney for $4 billion dollars.
Will you please just
LEAVE – IT – ALONE!
Well, the damage is done now. No going back.
It's funny how I still recall that big set of Caran Dache felt-tip pens. The blacks, greys and blues had obviously run out. See the bottom right corner? Another page was on top and was being coloured-in red. I'll see if I can figure out which one.