090: "It's a Tractor Beam!
on
August 25, 2016
at
8:05 pm
early 1978/age 9? "But… I only just blow-dried my hair!" There are a few things that puzzle me about this page. It was first drawn in '78 but Han has been retrospectively doctored–maybe 2 or 3 years on. And a lovely-haired-Luke has been added in what looks like green biro.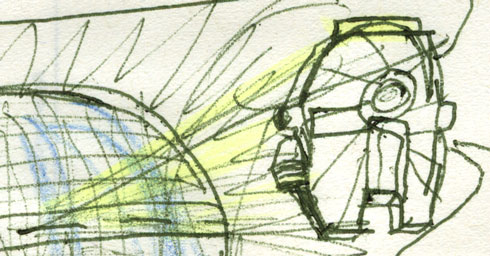 It's odd. If I wasn't happy with the artwork, why didn't I just replace it? Plenty of the other pages got dumped (though some were mercifully intercepted and saved by mum and dad). Was there still something about it that I liked? The bottom panel certainly is action packed with its aerial gymnastics. I'm also trying to figure out of it was originally drawn in green and black biro. Many other pages appear to have been drawn in green biro, but looking at Han's sleeve, I'm beginning to wonder if it was black which discoloured over a few decades to green? But!–the latterly added lovely-haired-Luke looks to have been drawn in green. An odd choice, unless it was meant to fit with the original green?
Han and Luke's hair defies the Tractor Beam!
Top-Left Short haired publicity still. Taken before or after production?
Top-Right A casual non-blow-dried look.
Bottom-Left Dorky middle parting, but still retaining the beloved '70s lorry-driver look.
Bottom-Right A surprisingly younger look–many years later in 'Empire'. Bye bye 70s, bye bye serial killer side-burns.
Very much of their time! Luke's been added to the background of the top panel and only a few stray hairs are starting to lift at the front despite that tractor beam. Thank goodness for Rebellion Super-Hold Spray.
"Ancient weapons, hokey religions and Tractor Beams are no match for a good hairdryer at your side kid."
You can see that I liked that blow-dried-back style of the late seventies. If you can't remember it, try to picture David Cassidy in the woeful Partridge family, and his famous-by-default brother Shaun–I think it was–in The Hardy Boys & Nancy Drew mysteries. I actually quite liked the latter series–being young and easily impressed–especially the scary ones! I even still remember the theme tune after nearly 40 years!
In the film–to be fair–Ford's hair doesn't really get the blow-dried look until the final throne room scene. Maybe that's why he looks embarrassed! But even then, it's not very hair-sprayed looking. Somehow, I don't think Ford would have allowed it, even back then!
However, I believe we still owe a huge debt of gratitude to the wise hairstylist on Star Wars: the uncredited Patricia McDermott. I mean, just think how bad it could have been!
As always, thanks for reading and keep the comments coming 🙂
↓ Transcript
(Here's a transcript of this page from the Star Wars comic book adaptation )

PANEL 1
--------
The Millennium Falcom is caught in the grip of the Death Star.
"It's a tractor beam!" says Han Solo, as he and Luke Skywalker look out of the viewport.

PANEL 2
---------
The Death Star resists Solo's attempts to break free and the ship flips and shakes.
"It's no good. I can't shake it!" yells Solo.