27: "Imperials'll be here like flies around a Bantha!"
on
February 25, 2018
at
11:17 am
Age 13/14/15? | 1981/82/83? The main shield is down, and things are falling apart at Echo base!
Hi readers. I still don't really have much time at the moment to write accompanying blog posts for these. I've been working hard on re-building my Illustration Portfolio website, so I can really push back into being a freelance illustrator (here's my current site johnwhiteillustrator.com). I think a return to that line of work is probably the most sensible thing for me to do now. The new portfolio site is going to be much better.
I've been looking back through the load of illustration work that I did as a freelancer back in the 1990s for top national newspapers like the Irish Independent, Sunday Independent, and The Irish Times, and some of it is pretty good—I think. I'm surprised to see that I did well over 100 pieces for them between 1995 and 1996. The print quality of the time was pretty poor at times, and sometimes an illustration might finally appear at half the size or less than originally intended as the contents were last-minute-shuffled around to fit. But nowadays, print quality is better and full-colour illustration more common. You might also see your work in perfect quality in the online version too. I won't delude myself though, traditional newpapers are struggling—due to online. So they have less budget to spend on illustration, but we'll see.
A few of my commissioned pieces were for the late Veronica Guerin, crime reporter. Veronica's dogged and brave pursuit of Ireland's organised criminals tragically led to her murder in 1996 on the Naas dual-carriageway. I believe I was actually awaiting the copy of her final article on the Friday that she was killed, so I could begin an illustration for it. I suspect neither the article nor the illustration were completed.
A high proportion of the pieces I illustrated for the newspapers were based on fairly grim subject matter: organised crime, drugs, murder, mental illness etc. I have to say that even though I wasn't getting enough work in to call it a proper living, I really enjoyed the work and I felt very proud of it. I'd go so far as to say that it was probably the happiest period of my working life, but I just needed push myself a lot more in terms of the business. I think it also would have been a great thing to have learned digital artworking sooner than I did—for doing illustration work. I didn't really start to learn that stuff until I subsequently went into full-time salaried work as a designer.
Anyway… we'll see… Thanks for reading, and here are a couple of pieces of mine for your enjoyment. The first was originally just in black line on paper, but last week I coloured it digitally.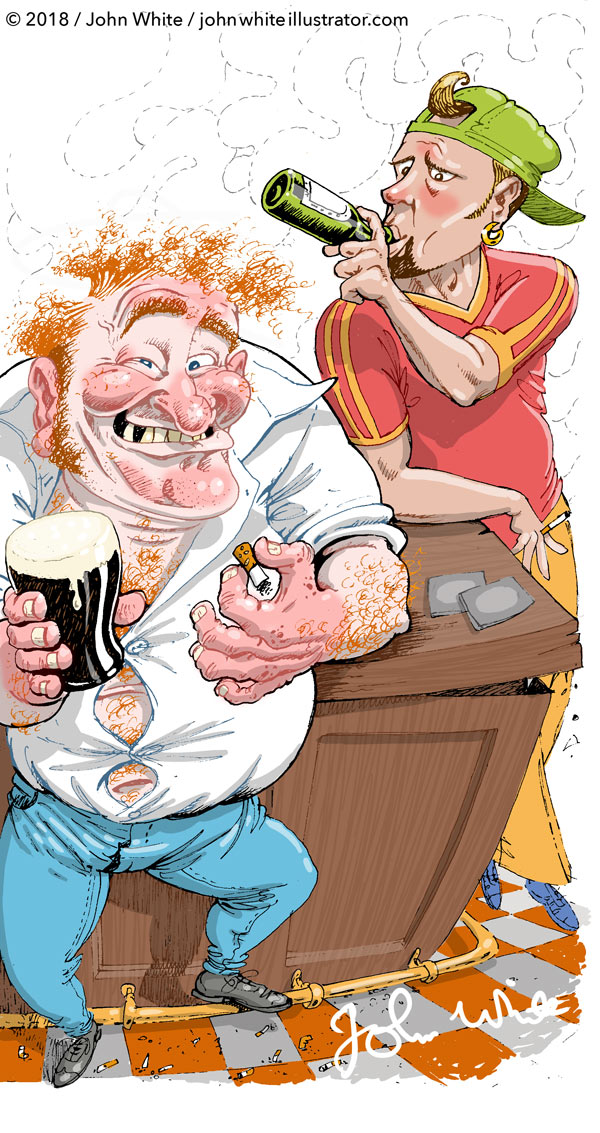 Do you recognise these characters, below?
Please give (free) support to this comic: post your comments below and give a share.