The Making of Star Wars and the 'excitingly familiar'.
(Old Blog Article from 6 Aug 2009)
I just finished reading 'The Making of Star Wars' and I have to say it's a fascinating, gripping read. I was given it for my birthday this year and I thought it'd be exciting and inspiring to read about such a staggering achievement – considering the odds, obstacles, studio resistanace, and the so-young team that slaved over it. I wasn't disappointed.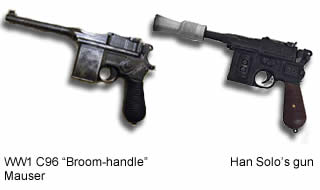 I really do have to take my hat off to Lucas now. I learned a lot about his totally new approach to Science Fiction movies. The most surprising revelation was that he wanted everything in the film to seem familiar.
So much so that familiar items would be used by the production designers such as cannibalised and cut-up and reassembled parts from actual WWI guns, a motorcyclist's chest shield as the rank signifier on the Stormtroopers (attached instead to the shoulder) and even the Nazi-like uniforms. It's a fascinating concept: Create someting totally new – but familiar. It reminded again of how Star Wars differed visually from so many other dreadfully, cheesily designed sci-fi offerings. Usually the baddies had capes and high dracula style collars, and everyone was covered in glitter and tin-foil!
Lucas even used Benny Goodman style music in the Cantina scene, rather than the futuristic electronic sounding concept offered by one of his sound designers.
Yes, George certainly was a more talented and insightful film-maker than I'd realised. Another thing: I also now understand why he describes the film as 'abandoned' rather than 'finished'; and his subsequent desire to 'improve' and finish it.