SWa9: Special Editions
Tuesday, 06 July 2010 00:00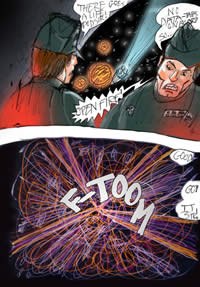 I thought it'd be interesting to take some of the old drawings and try to colour them as faithfully to the film as possible. It'd be fun to see a poor drawing very accurately coloured. It is fun to do but with this one, perhaps I took it too far. It simply looks too good.
It is in the best Lucas Tradition of taking something great - (ha ha) - that you did when you were young - and then tinkering with it. A sort of Special Edition version - but I'm not sure...
Judge for yourselves and let me know in the comment box below!
'Life Pod' (c.1977/78 & 2010)
'Leia - she's a bit rough' (1978/79 & 2010)
'Tantive IV Pursued' (1977/78 & 2010)
'Meet the Death Star' (1977/78 & 2010)
'Princess? What princess?' (1977/78 & 2010)
Really though, it's just a bit of fun - for me.