Reviews! Press! Interviews!
And you say you're surprised?
A New Hope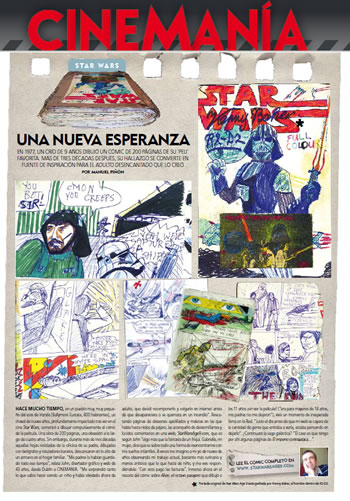 In 1977, a 9 year old boy drew a 200 page comic book of his favourite movie. Its rediscovery more than three decades later has become a source of inspiration for the disillusioned adult who created it.
By Manuel Pinon [Mar 2012]
A long time ago in a very, very small village in the east of Ireland (Ballymore Eustace, population 800) a lad of 9 years, profoundly affected after seeing Star Wars in the cinema, began compulsively drawing the comic of the film. A work of 200 pages, it was an obsession of over four years. However, for more than three decades those recycled pages from his dad's office, drawn with biros and cheap markers, rested on the top of the wardrobe in the family home. "My parents kept them all this time" says John, 43 year old graphic and web designer from Dublin, to Cinemanía.
"I was very surprised at what I could do as a child, and what I had now forgotten as an adult, so I decided to put them together and upload them onto the internet before they disappeared or burned in a fire."
Rescuing more pages from an attic full of moths and from luggage in which there were even birds' nests, they are now accompanied by hilarious and lucid comments in a website StarWarsAge9.com, that is according to John, more than a geek's fantasy. "Gabrielle, my wife, says above all, it's a way of connecting with my childhood dreams. Sometimes I imagine myself at 9 years old observing my actual job, quite a bit more routine and less artistic than what I did as a child, and I see myself responding (to him) 'with this, I pay the bills'."
Immersed now in the rescue of the comic about Alien, the eighth passenger, which he drew at 11 years of age without seeing the film! ("It was rated over 18 and my parents would not let me"), (it) lives a moment of unexpected fame on the Internet. "Just the day before my web site crashed because of the amount of people that entered to see it, I was thinking of giving up".
Will the galactic saga continue? 'The thing is that I have some pages around of The Empire Strikes Back....."
*Original 'Star Wars Age 9' (comic) autographed by Kenny Baker, the man inside R2-D2.
And it is AWESOME!
By Rod Hannah - BlueMilkSpecial.com
Like any good webcomic it has something unique about it. Just as the title suggests, John did an adaptation of the original Star Wars movie back in 1977-1980 starting when he was only aged 9 years old. Having found his old pages, John decided to share them with the online world and as such it's a fascinating and often hilarious insight into the mind of our younger selves.
[...] the majority of the strips come from the shaking pen and wobbly markers of a kid living in Ireland who was just escaping the 1970s. The best thing about this nostalgia trip is John's commentary on his own work, often self depreciating, but always funny. Star Wars: Age 9 has some great articles about Star Wars and life and is the product of one of those rare geniuses that this world is lucky enough to have to keep life interesting!
Full article »
Also see Rod's article written to mark the end of SWa9 »
He was good then and his work is great now.
By C.J. Bunce, Editor - borg.com
"Today John has two one-of-a-kind websites, one focusing on a 200-page comic book he wrote as a kid adapting Star Wars to comic book form in Star Wars: Age 9, and the other adapting Alien to comic book form in Alien: Age 11. Before you brush off the idea as "yeah, my kid does stuff like that" actually take a look at John's knowledge and talent with layout, color, and design at such a young age (...)
John has also filled in the gaps as a grown-up with new work and his new work could easily be found in the pages of today's DC Comics, Marvel Comics, Dark Horse, etc. He was good then and his work is great now.
I will only say this–if one of our readers in the comic book publishing industry (say, at Dark Horse or Dynamite) sees these pages and signs John, I just want credit for putting you both together. I know I'll be buying his first book. John's spark was ignited at 9 years old."
Star Wars age 9 and Alien Age 11 shed a little light on the dark ages.
By Dave Dempsey - fm4
"(...) it let loose torrent of memories of being a comic nerd in the nether-years. (...)
The site itself features scans of the comic, as well as information on the creation, some entertaining comments, and background info on the film that really makes it worth reading. (...)
Needless to say, the art (in Star Wars age 9) might not be the greatest, but there is still some considerable charm to it. Considering the age and relative isolation of the young boy in question I would call it amazing"