The Back Cover! (22)
Last Updated (Monday, 01 April 2013 20:33) Written by Administrator Friday, 09 December 2011 00:00
Postscript: Woah! It's the back cover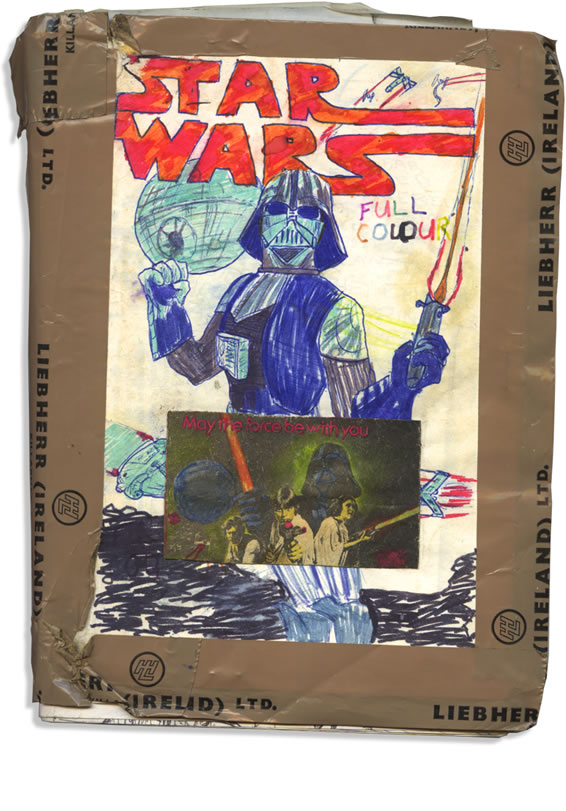 Full circle the front
Yes, I said the comic was at an end but, my goodness - it just keeps on giving. Now, who recognises the drawings?
Back in those days, if you were a fan who couldn't watch Star Wars whenever you liked, you took your sci-fi thrills wherever you could get them.
An animated TV series called Battle of the Planets hit the screen from Japan and it did the job pretty well if you were a youngster. Repetitive, yes; but visually better I think, than anything else that was available on telly. It was the first time I'd seen glowing backlighting effects in TV animation. They were able to produce realistic laser and fire effects. For the time it was also quite richly coloured. Every week, a robotic alien monster attacked earth. G-Force battled against it and always - always - ALWAYS! - the giant robot would resort to breaking up into lots of smaller robots. How times have not changed.
Characters would get teary too - all glisteny-eyed and quiver-lipped - when something terribly sad happened, like a child losing their parents. I never saw that before in TV animation either. Weird!
Every Friday afternoon after school, John Skehan and I would race home to see Battle of the Planets. And Gabby, my wife, says she loved it too. But I really must have loved it because I made a comic out of it! (left)
Anyway, you took your TV sci-fi where you could get it: Space 1999, Battlestar Galactica (ugh), Buck Rogers (oh dear), and even Jason of Star Command (one of the most laughable atrocities ever committed to celluloid). Desperation eh? I felt like such a traitor to Star Wars, but it was a guilty pleasure.
Disco Force!
Some of you might remember me mentioning this ages ago on Facebook, in the early days of SWa9.
One morning - in late 1979? - I had the most exciting vivid dream. My big sister Maria was up and about getting ready for school while I was still sleeping. She had the radio on as always. A song seeped into my subconscious and mingled with Star Wars. I awoke before the wonderful dream concluded - much to my disappointment - but set to work on a new comic. Proof if it were needed, that the subconscious mind is a creative force, is shown below (what a note on which to end!)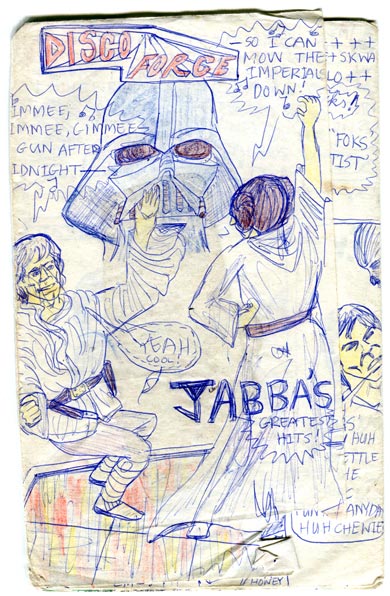 Sing to the tune of "Gimme, gimme, gimme" by ABBA
Thanks for reading! Please leave a comment below ;-)