Take Care Han (03)
Last Updated (Monday, 01 April 2013 20:03) Written by Administrator Wednesday, 19 October 2011 00:00
Shut Up Chewie
Well isn't that nice. Poor Chewie. You are such a bastard, Solo.
But wait - Han's a big softie after all. Even more than in George's version of SWa9. Tears - actual tears. But he tries to fight them back. Just for a moment. You see, that's the thing, right there. « Han shoots Greedo in cold blood - but later begins - in gradual little steps - to redeem himself. To become a better person.
Film Notes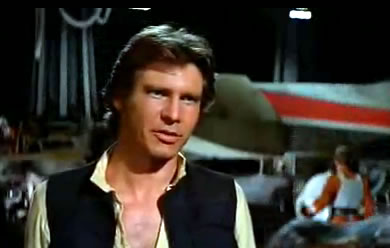 You big softie you. Go on - give him a hug. It'll do you good.
Blimey - they caked-on the makeup again in this scene. Remember earlier? - the scene that « Neil Baker showed to Mark Hamill. Ooer. Well, I have to say, Mr.Hamill was very sporting about it! « Take a look.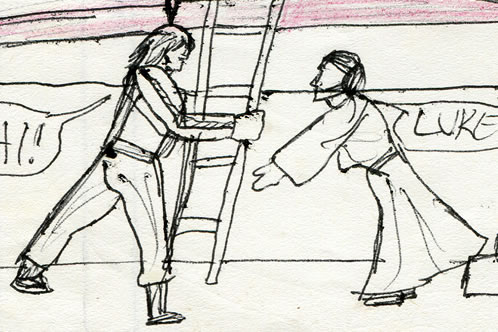 So, when's the battle going to start? FRIDAY!
Thanks for reading! Please leave a comment below ;-)