I'll Take him Myself (15)
Last Updated (Monday, 01 April 2013 20:28) Written by Administrator Tuesday, 22 November 2011 00:00
Heavy Heart
There's not a lot left of the book now. And I genuinely say that with a heavy heart. I'll be sad to see it end. This 2 year project has been the most creatively rewarding and enjoyable one of my life. With the exception of the 'Three Little Pigs' app that I collaborated on and fully illustrated in 2011/2012 with Marino Software.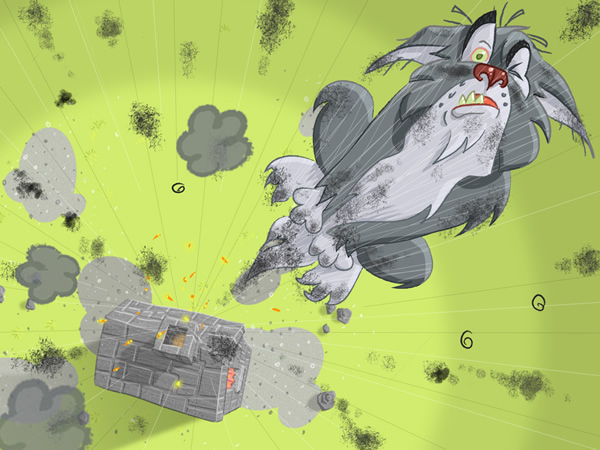 Blasting off! The Three Little Pigs
As a frustrated artist working for the last 14 or 15 years in Graphic/Web Design; rediscovering this comic and all the others, and in the process rediscovering my younger self has been a surprise revelation: namely that adults can learn from their younger selves - about themselves!
When I'm sat there coding an HTML form, or designing a website for a bank; I now sense - more than ever - 9 year old me looking over my shoulder, shaking his head and asking "So, is this it? Is this is what you've planned for me? What about my love of comics, and how I want to be an artist? Do I ever go to art college?"
Of course most of us never fully achieve what we want in life and it's unrealistic to think that just because you wanted to be an astronaut, it's a cruel world that's prevented you from becoming one. Some people aren't even that good at what they want to do! - no matter how hard they try but you can still learn lessons from the uninhibited (if naive) ambitions of children.
Often, the ones who run the local Yoga centre, or music shop or work with kids at the community arts centre might look as if they took the easy route in life - especially if they don't earn lots of money. "Bloody flaky hippies." But in some ways you could argue that graduating from college, applying for the desk job with the best financial prospects and following the well-trodden unimaginative course that might require no one of any particular talent - is actually the easy route.
You might also notice how very often it's the misfits who do the other low-paid things, that eventually - over a longer period - seem to achieve what they wanted. They might even do well financially.
They actually resemble the risk-taking entrepreneurial types in many ways as they sit at their pottery wheel or work with special needs kids. It seems that the ones in between - the real losers, are the successful wage slaves.
I'm thinking of subtitling the next childhood webcomic
A L I E N - Mid-life Crisis: pt.2
I never knew a mid-life crisis could start when one is 22. (When I started my first real job as an inbetweener on Teenage Mutant Ninja Turtles)
Art Notes: Cut and Paste
You might have noticed that pasted-in X-Wing photo in today's page? That was another generous donation by my pal Niall Farrington whilst in primary school. You can read all about it here in the Blog »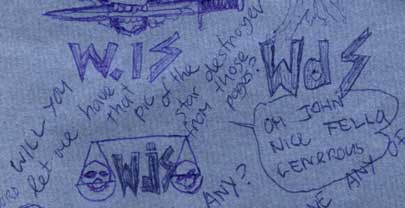 "Will you let me have...?" - "Oh John, nice fella, generous"
(Sarcastic? Oh, yes)
Niall actually cut them out of his Star Wars Storybook. Eek! you might have seen « some of the other ones he donated - or was cajoled into donating in earlier pages!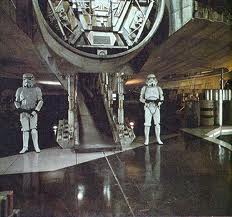 Here's another two, of the knock-kneed stormtrooper and the one I really loved: the destroyer!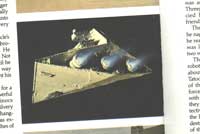 Thanks for reading! Please leave a comment below ;-)