Hang on Biggs (07)
Last Updated (Monday, 01 April 2013 20:14) Written by Administrator Friday, 28 October 2011 00:00
Porkins is Finished & Art Notes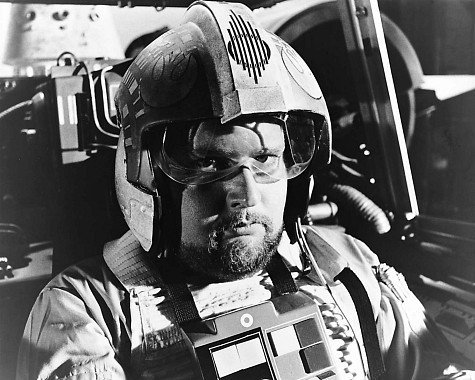 Porkins (William Hootkins) on set
Jul 5, 1948–Oct 23 2005
It's shocking to see the number of actors from the original film who are no longer with us. Like William Hootkins aka 'Porkins'. Rest in Peace William.
I got him!
The action is really hotting up now and I can see from the number of visitors - Facebook Likes and comments on these pages and facebook itself that the readership are enjoying this final chapter for SWa9.
Clearly, I was enjoying drawing these scenes too. I was getting better at it - even with the thick black marker I was using. Perhaps it was an Edding? There was nothing better than opening a pack of markers and diving on the black one. It's a blunt instrument for comic illustration on an A5 format but not as bad as this « wedge of a thing!
Keep informed as the clock ticks down
SWa9 will come to and end soon. The last pages will go up this Christmas. however, I do have one or two ideas for new content, plus two other webcomic projects. What are they you might ask?
Well, for those of you who are latecomers to SWa9, and who mightn't have followed the Facebook page there'll be ALIEN age 11 (steady on there Tom Gatto - it won't be long now) and an actual original webcomic penned and scrawled by myself which should arrive in early 2012 - or even sooner time permitting.
Facebook
Speaking of Facebook. Did you know you're missing some great stuff if you aren't following SWa9 over there? Just yesterday Niall Barr was reminiscing over his time washing cars with Ewan McGreggor in Perth, Scotland. Niall also put down his bucket and chamois, for his Military Historian hat - to give us some fascinating and funny opinions on the tactical side of the Battle of Yavin. Mr. Barr might merit a section on this site for himself!
Thanks for reading! Please leave a comment below ;-)