Try to brace it (12)
Last Updated (Friday, 29 March 2013 11:31) Written by Administrator Friday, 05 August 2011 00:00
You can write this stuff JOHN but you can't say it
Unfortunately we can't ride out of here on a drifting odor! from what an incredible smell you've discovered

(gasp pant puff wheeze)
Poor Han - what a mouthful of text to speak all at once! I reckon young me dashed headlong (as usual) into the text and realised I'd forgotten to use that choice "incredible smell" line earlier on. So in a split-second decision, in it went. Can't waste lines like those you know!
Don't just stand there GASPING. I mustn't ever have heard of the word gaping before.
Biggs in County Cork
As I mentioned on the Facebook Page today, we went off for a drive and passed through a small town in County Cork. Hence the lateness of today's installment. Anyway, as we walked around it, having decided to take the place in, on foot for once; we were finding it an incredibly dismal, dreary place. Previously I'd praised it and even thought of holidaying there. Perhaps the recession has hit badly here. Plenty of derelict shopfronts. Imagine my surprise when we popped into the local Super Valu to pick up some milk to take back to the rented holiday home (yes, rented - we didn't all go mad during Ireland's so-called economic boom). Well, check out the name on the sign!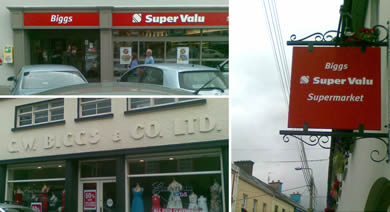 Biggs Darklighter. Star Pilot and Gombeen Man?
We walked on. Biggs on the side of an Oil Truck, Biggs on the local biggest Builder's providers outlet.
Often in irish towns you'll find that one man is the guy who practically owns the place.
(NOT THIS TOWN - Legal Advisor)
A big fat, cigar smoking, Mercedes driving git who all the simple locals look up to as the great self-made local man.
(Jesus! NOT THIS TOWN - Legal Advisor)
He most likely gives backhanders to county planners and secret donations to local politicians.
(Holy Crap! NOT THIS TOWN - Legal Advisor)
Owns the local hotel, chip shop, taxi service, supernarket, couple of pubs and lots of houses.
(NOT THIS TOWN - Legal Advisor)
Despite obvious corruption, the locals will all try to stay on his good side because you never know when one of your family will need a job. He's also popular because he'll buy a new strip for the town's under-16 football team.
(I QUIT - Legal Advisor)
I couldn't possibly draw this conclusion of Biggs in this town though. I don't know anything about him or them or the town. It's just a common local name. But I thought it was a funny idea. Biggs Darklighter: now running a small Irish town in County Cork and funding half-witted flat-cap wearing local politicians so they can sit in Dublin running the country! Badly as it happens.
Seriously - no offence intended to any Biggs families in Cork who are doing their best to keep the local economy going and provide jobs. Phew!
Thanks for reading! Care to comment?