It's Vacuum Sealed! (08)
Last Updated (Wednesday, 27 March 2013 20:26) Written by Administrator Wednesday, 27 July 2011 00:00
No Han, Don't Wait!
"Don't wait? Righty-oh..." BRAAP!
It's very important to be clear - unambiguous - in situations like these. Though, on the other hand - some people just hear what they want to hear and shoot, regardless.
Art Notes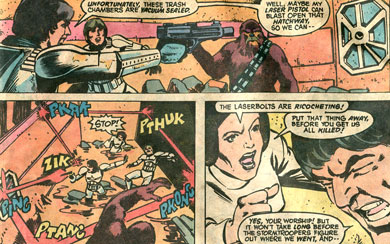 I really like that onomatopoeic"BRAAP!" from Solo's blaster. Though it'd probably suit a machine gun better.
Neil Baker reminded me of this project in his comment on Monday's strip. Star Wars Uncut (Star Wars Even More Cut-up would be more apt) is a project in which filmmakers select from hundreds of 15 second segment cuts of the film and recreate them in any way they like. Our Neil - who's an animator - did a rotoscope version with his Trash Compactor segment. For those of you not familiar with the term, rotoscoping is (put simply) tracing or painting over photographed movie film footage. You'll have seen this in the 80's in Aha and Dire Straits' videos and the like.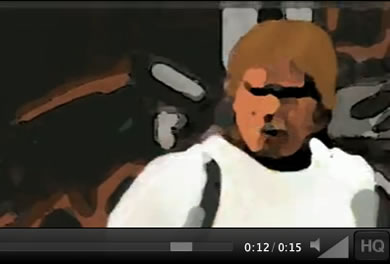 Rotoscoping's been around for yonks of course. And not just used by arty filmmakers at the National Film Board of Canada and the like. (whisper) Disney did it too - though they'd prefer you didn't know that. Traditional or Classical animators are quite up their own bottoms about this sort of thing. Insisting that they do 24 drawings-per-second of screen time and only use live action footage - like Prince Charming on his horse in Cinderella for example - as a reference. Yeah - as a reference. God it's so hard to convey caustic sarcasm in text. Anyhoo - check out Neil's bit here. He said he spent about 30 hours on the repainting. His colour is spot on and the audio is very funny!
I haven't watched the rest of the project yet - but I'm looking forward to it.
Thanks for reading! Care to comment?