Give me that blaster (03)
Last Updated (Wednesday, 27 March 2013 20:31) Written by Administrator Tuesday, 19 July 2011 00:00
Leia grabs Han's blaster and takes the initiative
More from c.1983. I was around 14 or 15 then, and clearly still enjoying Howard Chaykin's old 1977 adaptation for Marvel comics.
Art Notes
Another huge mouth! I must have really been getting into it and pushing things expressively.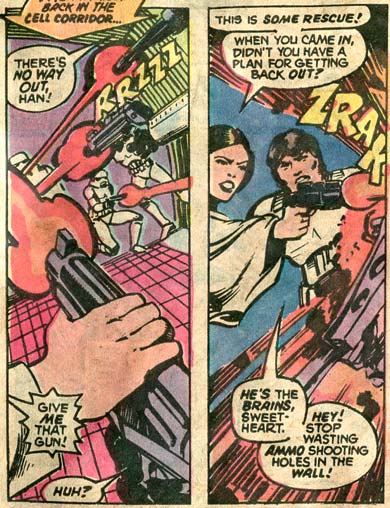 Howard Chaykin's Marvel Treatment, 1977
My favourite thing in this page is the 2nd panel. I love the juxtaposition of Luke's anxious screaming down the line at Threepio - against Solo, who has his back to us whilst dealing with the situation, but nonetheless defeatedly uttering
"THAT'S GREAT, JUST GREAT!"
I wonder what his facial expression is? All left to the reader's imagination!
And look, Leia takes Solo's blaster - not Luke's. Must've been Howard C's influence on me.
Thanks for reading! Care to comment?