THX-1138 (03)
Last Updated (Thursday, 28 March 2013 21:57) Written by Administrator Wednesday, 04 May 2011 00:00
May the Fourth be with You!
I was trying to be a bit clever putting in the THX-1138. My friend Thomas Logan gave me the novel in school and I read it a few times. I loved the film too. UPDATE! Actually, it's in the Star Wars novelisation of '77.
Apparently our George has lately fecked about with this film via CGI too.
STOP IT!
Panels 2 and 3 are lifted from Chaykin's version. You can see how much better the brown gloved fingers are drawn than I could have done from my imagination.
The gantry officer's face registers fear! But more of that later -

Everyone freezes mid-action, as we cut to another scene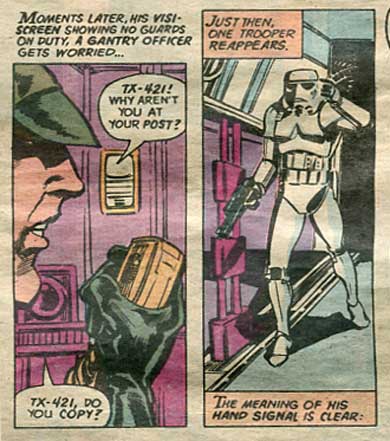 Howard Chaykin's blatant rip-off of my own treatment, 1977.
Film Notes: the Forgotten Cast member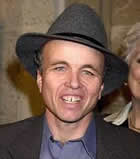 Clint Howard in his two other non-Star Wars age 9 roles.
Above: as himself
Below: as some NASA guy

"No... not another giant space bear!"
Recognise the chap in the bottom panel? That's right, it's one of the lesser known actors in Star Wars age 9: Clint Howard. Brother of director, actor and famous-ginger: Ron Howard, he provided the inspiration to a Mr. and Mrs.Eastwood all those decades ago when they struggled to choose a manly name for their newborn. He too, rose to stardom.
Clint has appeared in a couple of other works than this one (see: left), but he fought long and hard to break out of the SWa9 role which typecast him for so much of his younger acting career as "Nazi character who gets pounded by a teddy bear".
Perhaps to make amends, when I tweak the following scene in 1997 (?) for the Special Edition, I'll remove the blaster shot to his chest. Making it more child-friendly and less upsetting for Clint's parents.
This page is for you Clint! You're a SWa9 legend.
Thanks for reading! Care to comment?