Slight Weapon Malfunction (14)
Last Updated (Friday, 29 March 2013 09:56) Written by Administrator Monday, 30 May 2011 00:00
"Aw stuff it!"
Harrison Ford gave us yet another good laugh in this shot. I always look forward to his performance here. The sideways tilt of the head - like a secretary who holds the phone between her shoulder and jaw, "We're fine - now." and his grimace when he realises he's run out of ideas, "Uh, how are you?"
Literary Appreciationment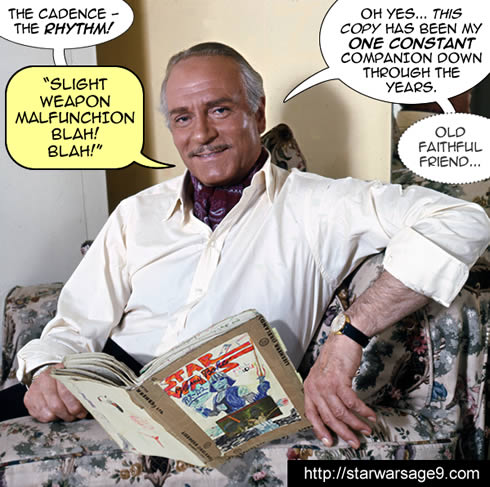 Larry reading SWa9 last Friday. It's good enough for him - why not you?
Once again, we get some bad planning by the artist/writer/letterer. You'll need to read the dialogue in the bottom in some sort of mixed-up order for it to make sense. See if you can figure out how it goes! Incidentally, my friend Dermot recently recommended reading, not only poetry, but any fine writing - aloud - to truly appreciate its "cadence and rhythm". Try it with this comic page and imagine you are Laurence Olivier.
"Oh my word! Everything - everything that we've held dear... all the rules... We must tear them up! Indeed, this work heralds a terrifying and brave new world for the modern writer.
But! - oh, ohhhhh.... so beautiful (sniff)."
Art Notes
I'd place this page at late 1978, perhaps early 1979 stylistically. We get another attempt at moody lighting on Solo's face in the bottom panel.
What do you think of Chewie in the top panel - about to smash the controls with his fist? Odd that I did me colouring-in on those shoulder thingies in yellow...
Thanks for reading! Care to comment?