Cell 2187 (16)
Last Updated (Friday, 29 March 2013 09:59) Written by Administrator Friday, 03 June 2011 00:00

Great Googlie-Mooglies!
It's scary sometimes. I decided to check with Google (Almighty font of all knowledge) to see if the cell number in this strip is the correct one. Well, would you believe it? - if you Google '2187', it's actually listed in a Star Wars-related page at number 2? So out of the entire internet with all of the world's phone numbers, house numbers and random miscellaneous occurrences of the number 2187 - its starring role in Star Wars seems to be the second most significant one - EVER. (This also says something about Google's questionable search algorithm).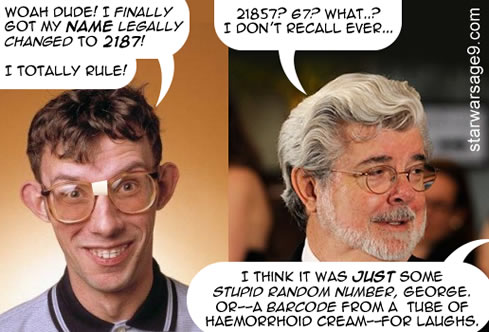 But do you know that just about every detail in the film has been named, documented and given a back story? I bet there's a site, or book - somewhere with a blueprint of that squeaky little trapezoid droid that zips around our heroes' feet (for about 3 seconds of screen time) as they approach the detention block. Crackers! (It looks suspiciously like one of R2's feet)
Art Notes
The top panel here owes everything to Chaykin's version, I'm disappointed to admit. But still, it's fun for me to see what I copied from him and what I left out. The text is different; and for some reason, I couldn't be arsed copying his wonderfully dramatic smoke.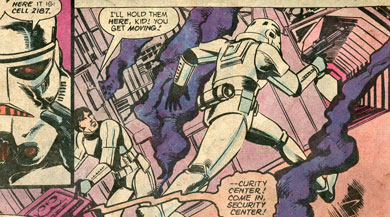 Howard Chaykin's at it again (Marvel/Chaykin 1977)
Script Notes
"Thing is it'd probably melt in my hand."
Once again, a somewhat puzzling little bit of my comic had me wondering: where did that come from?
Luke's concerned that his gun will melt. My text doesn't make the reason why very clear, "I'll have to put my gun to blast the door". Put the gun to WHAT? The Shoot-Door setting? I thought, there I go, trying to improvise again... But no - imagine my surprise when I see it in the novel: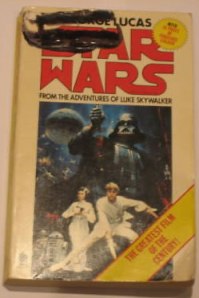 Lucas takes the credit - again. Who does he think he is?
"Turning his weapon to maximum and hoping it wouldn't melt in his hand before it broke through, he opened fire on the door. When the weapon became too hot to hold, he tossed it from hand to hand."
I hate that.
Thanks for reading! Care to comment?