Interrogation (01)
Last Updated (Wednesday, 27 March 2013 21:22) Written by Administrator Friday, 18 March 2011 00:00
This scene in the film always brings a smile - oddly enough!
Are you injecting - or skewering me?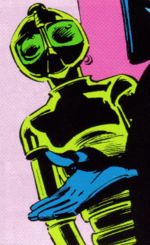 The Marvel one looked quite different!
George Lucas said he wanted things in the film to look 'familiar' - even though it was an other-worldly space-fantasy movie. People could relate to it - strange as it all was: it'd connect. Thing is though, that interrogation droid - or whatever it is - is very impressive, scary and futuristic; but it has this laughably familiar plastic syringe attached to it! Same as the ones we have in our own Galaxy. And is that all it does? All that anti-gravity, robotics, weird humming and it just runs into you with a needle? Hey, maybe Vader's too squeamish to do it himself! Look at the size of it! It's not so much a needle - more of a wedge.
Ah that's nice, he gently pulls her sleeve down for the injection.
Art Notes
The artwork here was mostly ripped-off from Howard Chaykin's Marvel comic adaptation, but the reflective surface of Vader's helmet is quite well observed. Chaykin didn't have the floating ball droid thing so I had to do that myself. Floating metal turnip - more like!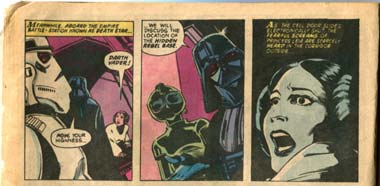 Howard Chaykin's rip off of my version - 1977
A green highlighter marker has been used here. Dad brought some home from work and I was just amazed by their effect. The black is done with a thick permanent marker. The, by now familiar yellow Simpsons skin colouring is due to the 'flesh' marker running out.
Or, can't-be-arsed-ness.