Arm Ripping (05)
Last Updated (Wednesday, 27 March 2013 21:32) Written by Administrator Monday, 28 March 2011 00:00
A Nice Find!
I like these panels. So I'm very pleased to have rediscovered them in the attic. They must have been cast-offs, rejects. Otherwise they wouldn't have ended up in this state. See the edges of the paper? They're the 'extra' pages I found in the attic in a briefcase full of bird nest debris and shite. What a bonus
The Gang's High-Q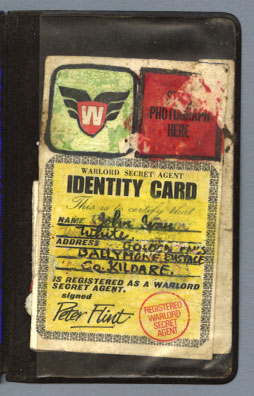 Seriously! The briefcase was there, overflowing with straw from the nearby hay sheds. Mum and dad's house is in the Irish countryside you see; surrounded by farmland. So, when the birds made their nests over the years, in the apex of the attic gable - they used whatever was near at hand. Thankfully they didn't use my artwork! The briefcase was right underneath - open for about 20 years probably. John S, Kerry H, Niall F and I had a gang or club that made its headquarters - or High-Q as I mistakenly called it - up there between 1978 and 1980-ish. We were the Warlord/Star Wars Eagles - I think. It had formerly just been the Warlord Eagles but was then merged into our new interest: the latterly arrived Star Wars. A bit like the way Star Lord comic merged into 2000ad comic.
Art Notes
I'm enjoying this page, see:
Threepio's bewildered pose (looks a bit familiar - from Marvel?)
Chewie's belligerent rampaging - like he's about to stamp around the Falcon tearing things apart
Hans' relaxed but suggestive sideways glance
Chewie does that reclining, paws smoothing back his hair gesture that Niall F and I reminisced over in the schoolyard.
This was originally drawn in green biro and later tweaked in blue biro, and coloured-in. Could've been one of those multi-tipped pens I've mentioned before. The early version seems to have been relatively good. I must have felt that a few new touches would suffice to make it acceptable.
Here's a good MAD Magazine cartoon that deals with Light-speed related issues: