You May Pass (4)
Last Updated (Sunday, 10 March 2013 12:20) Written by Administrator Tuesday, 15 February 2011 00:00
Sandtroopers?
When was that moniker invented? I was never aware of it until went to a convention last year. They were all just stormtroopers to me. Well, I suppose it sells toys!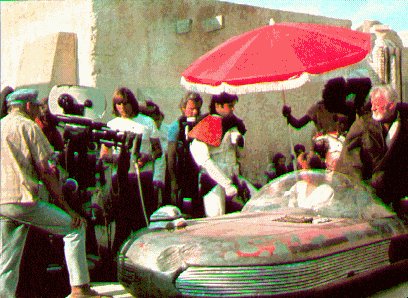 Fantastic production photo from Blue Harvest.net
It's great reading about how the costumes and props were thrown together for the film. The gear on these sandtroopers consists of the previously discussed motorcycle chest protector for the shoulder rank-signifier, but also bits of plumbing pipe for their backpacks.
Art Notes
The welcome return of the oldest crappiest stuff. Well, I love it.
Just look at the lovable Jawa with the huge head, drifting along like a ghost. And another even more weirdly proportioned character to the right of him; with an insect head - or a pilot's helmet? A later attempt was made to improve the stormtrooper drawing (bottom) with blue biro.
Will you please just
LEAVE - IT - ALONE!
Funny how I still recall that big set of Caran Dache felt-tip pens. The blacks, greys and blues had obviously run out. See the bottom right corner? Another page was on topand was being coloured-in red. I'll see if I can figure out which one.