I seem to have found it (8)
Last Updated (Friday, 28 December 2012 16:26) Written by Administrator Friday, 29 October 2010 00:00
Who Needs Drawing?
Liberal use of speech bubbles today! It's easier than drawing right?
| Quality | Cringe | Comedy |
| --- | --- | --- |
| | | |
| | | |
| 3 | | |
| | | |
| | 1 | |
Artwork Notes
We've jumped straight to the interior of Ben's home with the last page. The Marvel comic did the same. I could have sworn there was a Marvel panel showing the landspeeder parked outside; and that I'd imagined that that same establishing shot was in the film. Or at least added to the Special Edition. Apparently I was wrong. Ben's hands are a bit too good in my top panel. (see the Marvel original below). Why - oh WHY? Didn't I ever bother with light construction work prior to Biro'ing in the finished work. Finished? Who am I kidding?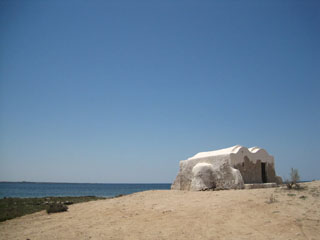 Above: The real-life house from a traveler's blog
God, I was so so lazy. Every year my mum and dad would encourage me to enter art competitions - like the Texaco one - but I simply couldn't be arsed. Much more fun to work away on my own comics and things whenever the fancy took me; of space and World War II. Big sister Maria would roll her eyes to the heavens and exclaim "but they're just comic strippy looking!"
Maria came home from school in Naas with her first pencil drawings that employed tone - or shading as people like to call it. She particularly impressed me with her study of a toy microscope. My mum asked Maria one night to give me an art lesson. We had none in primary school. That was when I learnt the evils of pencil-smudging! How they hated that in art college. Still, it was much appreciated and a valuable introduction to working in pencil but more importantly - thinking about tone.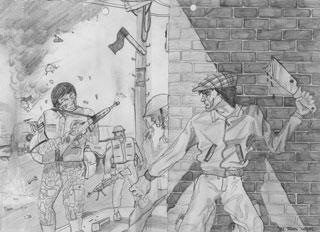 1981/13yrs: Gruesome pencil drawing - of which I was enormously proud. Half of my relatives are from Northern Ireland. But that didn't enlighten me much. The 'Terrorist' has the Johnny Red nose crease.
Text Notes
You know, thinking about it now, I'm almost pleased to see the lack of attention to detail and quality in this page. The fact that the speech bubbles are used exclusively in the bottom panel and the fact that I didn't bother to tippex or white-out any mistakes suggests that the story-telling element might have been becoming more important around 12 or 13 years old.