We Meet Luke (13)
UPDATE: "I KNOW YOU DON'T KNOW YOU MANIAC" An odd line this. I've wondered where did I get it from? Well, imagine my surprise as I listened to Episode 1 of the 1981 Radio Adaptation the other night - and there it was: 30 years later! "So THAT was it!".
This page contains one of those 'what-if' scenes.
Film Notes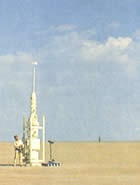 One of the deleted scenes

When Howard Chaykin was in such a hurry to get Issue#1 of Star Wars Weekly illustrated for Marvel, the scene of Luke shown here was still - presumably - intended for inclusion in the film. None of the final versions have ever shown this scene - or the other Tatooine scene with his friend Biggs. George felt [or someone else must have argued] that they slowed the film down. Probably the right decision. But it's amazing when you consider how terribly the Prequel Trilogy films drag at times: they seriously need some ruthless editing. So instead, we meet Luke when the Jawas arrive at the farm; and very effective it is too. I suppose fans will always mourn any footage that was ditched from the most influential film of the last 30 years - but then again, the restored Jabba/Solo scene wasn't very successful was it? My ideal fantasy compromise would be the original theatrical version (cleaned-up and remastered of course) and the restored-everything-back-in version for fun. Then: ahem, bin all of the others.
It's funny, even with the scenes removed, the early part of the film is actually still a bit slow by today's standards! George admits this himself. Not that I'm complaining: most of today's films are a stupid blur of effects, noises and nonsense with no character development.
Art Notes: Luke 'Obserbves'
"I know you don't know, you maniac!"
Much of this is lifted from Chaykin's self-inked Marvel issue#1. Hence: 3P0's odd appearance, the more mature look of panel 2, and the exciting wide bottom panel.

One of Marvel's extra scenes . Art: H.Chaykin
Chaykin's inking was odd, messy, rushed - but very expressive. It really does have a brush-stroke feel to it. Back then, without DVDs or even video tape and years to wait until seeing the film again; what I wanted was an accurate, realistic rendering - which is what I got with the 'Empire' adaptation. But nowadays - it's nice to see a different take on something so familiar and instantly accessible.
Incidentally, here's that lost footage.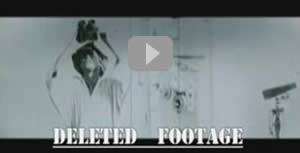 Next: We meet Luke's dad