We meet Biggs (16)
Augraphed by Garrick 'Biggs' Hagon, April 2011 (Read more)
In another deleted scene from the film, we meet Biggs. Is that derived from Biggles - fictional British WWI fighter ace? - or from some physical attr.. never mind.
Art Notes: a little ambiguity!
"BLARP!

GLUK "
This page elicited an interesting response from one reader last year on the old site:
"Are Biggs and and Luke kissing? I guess they are supposed to be hugging, or were you going in a new direction?"
I mean, just who is kissing who? And have a look at the 'Love hearts' - was I kidding? Do you think Stan Lee would have passed that visual device if I'd submitted it to him? I don't really like this page to be honest: just look at Luke's face in the bottom left panel.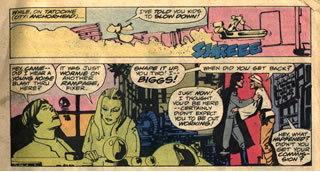 Above: Howard Chaykin's Marvel comic adaptation - 1977
You can see once again that I had to turn to Marvel for references. Also, notice that Fixer's girlfriend in the Marvel version refers to Luke as Wormie. In the deleted movie scene Luke seems as if he could be the younger one of the whole gang - and the butt of all the jokes. It actually gives a nice bit of added depth to his character and makes us even more sympathetic to him. Little do they know how much Space Travel and adventure really are in his blood - and genes. Or... do they know, through rumour, more than Luke does about his father and want to stifle his ambitions and keep him at their level? Biggs hints at this in Brian Daley's masterful radio version in one terrific scene in particular.
Film Notes

Another deleted scene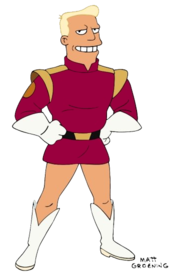 The ridiculous Zapp Brannigan - by M. Groening
However, this is a much longer more complex scene with luke and his friends which slows the film down quite a bit, see the footage here.
And the follow-up scene with Luke and Biggs that slows even more. Garrick Hagon's performance - is a bit comic strip heroic. But it's probaby what George wanted. George loved comics. Why am I reminded me of Zapp Brannigan in Futurama? There's a touch of Zapp and Charlton Heston when he says "Ha - that's no battle Luke!"
I didn't adapt this deleted scene, just the one before it. Once again, I think it'd be nice to have a fuller, restored film in addition to one single cleaned-up original theatrical release - which would be the definitive one but I think George Lucas feels differently. With some justification. It's quite reasonable that he should leave out scenes that, in his opinion as writer/director, didn't work. It's a normal part of the creative process. But adding all sorts of superfluous stuff back into the Special Editions annoyed a huge number of fans. I think artists have to move on - don't you? And focus on producing new - better work that is even more creatively fulfilling. But, it's George's film.
So yes, the one definitive version - that we all loved - and one curiosity with the restored scenes please! I asked Garrick last Easter Sunday and he's all for it.
Thanks for reading! Please leave a comment below ;-)